I love picture books! What teacher doesn't?! And I have to admit I've spent a pretty penny on my collection. I wanted to become a librarian at one point- but the certification in my district is just insane. Too many courses- way to expensive on a teacher salary :(
Anyway, I saw these durable clear bins at Home Depot and knew they would be perfect for me to stack my books in. After a couple days hours I finally finished organizing my collection.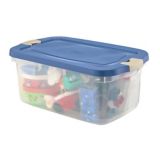 Missing from this picture are my Community Workers, Transportation, Fall & Thanksgiving books.
It's important to note that these are the books that are NOT included in my classroom library. These are my read- aloud books that I use when I do my themes. A lot of them are hard cover books that I've invested in. I do try to purchase soft cover doubles that will go in my classroom library though. I also offer incentives to my students who can earn a chance to get a book from "Mrs. M's special collection".
I display the books here, in a little corner near my desk- our theme at this time was colors.
How do you store your special books? I'd love to hear about it :)
Have a Great Weekend!